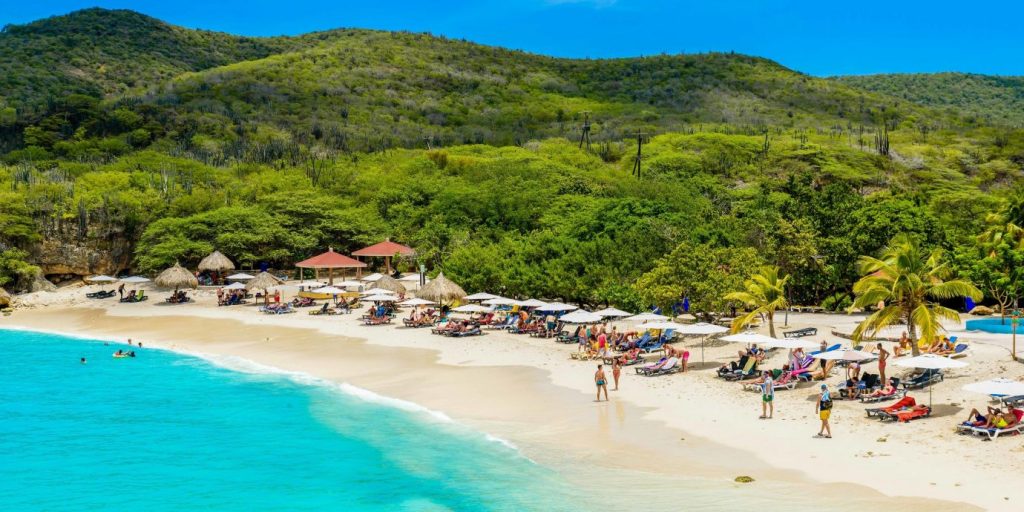 Discover your dream vacation home in the Caribbean with traveler friendly Caribbean Vacation Rentals. It provide unique opportunity to communicate directly with the owner, thus, helps in saving time and money of both the traveler and vacation property owner in the Caribbean. There are wide varieties of vacation accommodations available including villas, beach houses, condominium, apartments, cabins, hotels, Mountain View rentals and different types of vacation properties suites travel itinerary of all age and group of traveler to the Caribbean. Let's unfold amenities in best vacation rentals by owner in the Caribbean.
Top 5 Water Paradise in the Caribbean:
Curacao: It is a Lesser Antilles island in the southern Caribbean Sea. Curacao with capital Willemstad is one of the most beautiful scenery locations in the Caribbean is a constituent country of the Kingdom of the Netherlands. Curacao is part of ABC Islands present colorful painted home, colonial architecture, parks, museums, and stunning beaches for tourists to explore. There are world renowned snorkeling and diving sites full of colorful reef and tropical marine life, Booby Trap and Porto Mari. Curacao Vacation Rentals are equipped with all tourist friendly amenities including high speed internet, private space, near beach, equipped kitchen, furnished rooms, and rentals water sports gears for snorkeling and diving.
Dominican Republic: It is the part of Hispaniola Island in the Greater Antilles, Shares Island with Haiti. Dominican Republic is popular for its magnificent beaches some of the best beaches include Bavaro Beach, Najayo, Sosua Beach, Cayo Levantado Beach, Playa Rincon, Playa Juan Dolio, and more. The diversity in geography encourages traveler to avail Dominican Republic vacation. There are lush green forest areas, mountains, semi-desert area, and pristine beaches all dotted with Dominican Republic Vacation Rentals providing eventful vacation period with postcard perfect scenic surroundings.
Trinidad and Tobago: It is the southernmost Caribbean island constituting of small islands in the Caribbean.Trinidad & Tobagooffers rainforest experience, excellent bird watching opportunities, delightful diving sites, and white sand beaches dotted with greenery. The turquoise water of the Caribbean Sea act as playground for vacationers with numerous excursion tours to the Caribbean sunset. Trinidad and Tobago Vacation Rentals provide great opportunity to explore sites like Maracas Bay, Englishman Bay, Pigeon Point, Caroni Bird Sanctuary, Mount St. Benedict Monastery, Main Ridge Forest Reserve, Frit King George and more.
Turks and Caicos Islands: It's a British Overseas Territory consisting smaller and larger tropical islands in the Lucayan Archipelago in the Atlantic Ocean. Turks & Caicos Islands provides amazing tourist sites, landmarks and beaches to explore. There are numerous outdoor recreational activities TCI supports. From ATV rides to Jet Skiing to sunset sailing to diving sites, much is there for tourist to unwind while vacation with furnished and theme decorated Turks and Caicos Vacation Rentals. Top attractions in Turks and Caicos Islands include Grace Bay, Columbus Passage, Chalk Sound National Park, and Little cay, Gibbs Cay, Middle Caicos, Mudjin Harbour, Pine Cay, Slat Cay, and Conch Bar Caves.
The Bahamas: Renowned for pink beaches and swimming pigs, the Bahamas is group of magnificent islands providing tropical vacation paradise in the Atlantic Ocean. There are unspoiled cays, bays and islands entertaining tourist with beach side activities and natural beauty. Bahamas Vacation Rentals are equipped with kitchen and all amenities to the comfort of guests.
Thus, browse Vacation Caribbean Rentals to experience the bright side of vacationing in the Caribbean with world class amenities and services along with the warm friendly hospitality of the property owner.