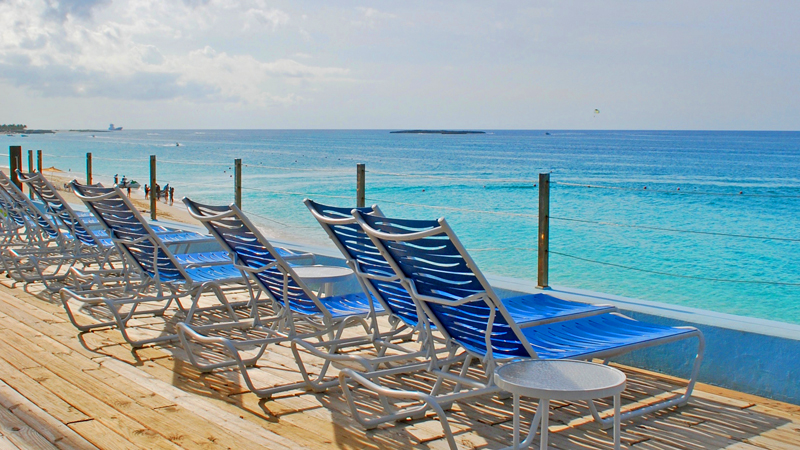 The top most islands for the travelers in the Caribbean are of the following to make a memorable vacation:
Bahamas: Bahamas is the fascinating tourist destination with over 700 islands and over 2000 cays and bays. This remarkably beautiful group of Islands is renowned for its pristine natural beauty. Tourists round the globe include this beautiful family destination in their bucket list of must visit destination. There are tons of amazing outdoor recreational activities this romantic region supports such as sightseeing, scuba diving, swimming, snorkeling, parasailing, sailing, jet ski, banana boat rides, shark & dolphin excursion tours, horseback ride in sea, Nassau shopping & cuisine delight and many more you will explore while scouting this beautiful groups of Islands. Bahamas is dotted with luxury beach resorts, all-inclusive villas & fully furnished romantic Bahamas Vacation Rentals. These beach front vacation rentals are loaded with all travel amenities and world class services to the comfort of the guests. In addition, these rental properties are nestled in close proximity with numerous touristy destinations, which makes it easy for families to explore more beautiful sites and islands. Exuma's swimming pigs had gained popularity in recent years and families, groups, back packers, and nature enthusiast come to Exuma to feed and swim with these adorable creatures.
Turks and Caicos: Turks & Caicos is romantic, stunning& award winning tourist destination nested quaintly off the south east coast of the Bahamas. Turks and Caicos also known as TCI is blessed with one of the world's largest coral reef system, providing great opportunity to snorkel & scuba dive. The natural underwater cave system is a unique surprise for water enthusiast here in TCI. These underwater caves are best place to admire the true beauty of nature and the crystal clear waters of the sea full of marine life, enrich vacation experience of tourists. Fishing and whale/dolphin watching tours are popular among both tourists and tourist friendly locals here in TCI. Providenciales Grace Bay is the most beautiful region providing tons of recreational activities in the picturesque romantic surrounding of beaches. Middle Caicos is popular for its amazing hiking and biking trails, passing through picture perfect sites, beautiful villages, Conch Bar Caves National Park while admiring the incredible coastline. Grand Turks greets visitors with its pristine beaches, light house, museums and panoramic view of the ocean and coastline. Vacation Caribbean Rentals is vacation rentals website which provides all-inclusive Turks and Caicos Island Vacation Rentals at an affordable cost. These vacation rentals are vacation theme designed and fully loaded with all modern day travel amenities and facilities for a memorable vacationing in TCI.
Barbados: Incredibly beautiful Barbados, island country of the West Indies in the Caribbean region is popular tourist destination worldwide. The beautiful Barbados is renowned for its Harrison's Cave Eco-Adventure Park, pristine beaches, kid's friendly activities, and tourist friendly locals. Tourist enjoys the local Barbados culture full of music, feast, and party. The soft while sand beaches are lined with tall palm trees provides laid-back vibes for a sun soaked vacationing. Barbados is all-round romantic destination and dream wedding destination among couples around the world. Couples come for romantic outing in the peaceful and tranquil environment in this Caribbean region. Spacious, comfortable all-inclusive Barbados Vacation Rentals caters guests and travellers coming to Barbados for ideal vacation experience. Popular reggae, dancing, rum, seafood, party, and beach bars are all vacation ingredients here in Barbados.